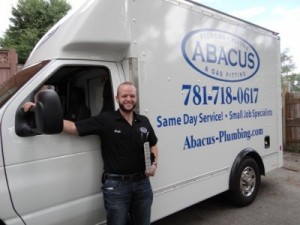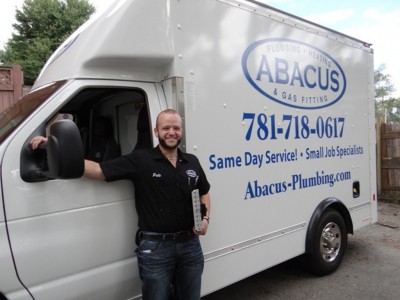 From kitchen and bathroom remodeling to custom upgrades, Abacus Plumbing Heating and Gas Fitting  provides the best in custom  plumbing installation and repair for your home or business. Our customers will receive services and products that meet or exceed their expectations or we will make it right. We have the finest trained personnel to assist our customers at their home or business.
From brand new installations to standard maintenance and the most comprehensive repairs, our Abacus plumbing repair specialists can resolve any issue, large or small.
So, whether you are experiencing a slow drip, terrible clog, or overwhelming flood, our staff can resolve the issue both quickly and affordably.
We offer 24 hour 7 days per week assistance that includes weekends and holidays. We keep our service vans fully stocked with replacement parts and tools that allow us to make any Metro West or Metropolitan Boston plumbing repair as quickly as possible.
And when it comes to a plumbing repair, you can be completely confident that our plumbers are trained to diagnose any problem. From mishaps in the kitchen, bathroom and laundry room, to gas leaks and even troublesome water
heaters, we can help!
Our plumbing repair specialties include:
• Leaks
• Stoppages
• Drains
• Overflows
• Sewers
• Water Heaters
• Gas Leaks
• Water Filtration
• Re-piping
• Relining
• And More!
So, if you are looking
for a repair that will be performed both swiftly and correctly, you've come to the right place. Abacus is proud to offer the most comprehensive repairs all at a competitive price.
We are happy to give our customers a quote for any of our services. There is a minimum service charge to come out and deliver a hand written estimate. The fee will be waived if the quote is accepted. Or if you have a nicer way of saying that then I'd love your input.
Give us a call at (781) 718-0617 to discuss the best choice for you, or request a estimate now.  We promise we'll have you up and running in no time!
Customers are welcome to call or e-mail their inquiries and we will be glad to assist you.
Offices:
Abacus Plumbing Heating and Gas Fitting
17 Beck Road
Arlington, MA 02476
Phone:  (781)-718-0617
E-mail:  peter@abacus-plumbing.com