Is it Backflow Testing Time?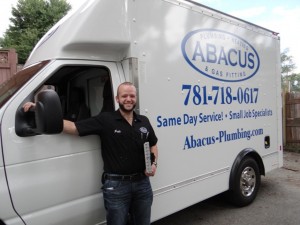 Is your water safe, or is it being contaminated by backflow? Without a backflow test and a backflow prevention assembly, your sprinkler system, swimming pool, or even your water heater could be pushing contaminated water back into your kitchen and bathroom.
Abacus is certified in backflow testing, repair, rebuilding, and replacing backflow assemblies for residential and commercial applications. We have years of experience as a certified backflow testers in Greater Boston and we provide affordable backflow testing to our many satisfied customers.
We are happy to give our customers a quote for any of our services. There is a minimum service charge to come out and deliver a hand written estimate. The fee will be waived if the quote is accepted. Or if you have a nicer way of saying that then I'd love your input.
Give us a call at (781) 718-0617  or request an estimate now.
Customers are welcome to call or e-mail their inquiries and we will be glad to assist you.
Offices:
Abacus Plumbing Heating and Gas Fitting
17 Beck Road
Arlington, MA 02476
Phone:  (781)-718-0617
E-mail:  peter@abacus-plumbing.com